Surveys. Redefined with Memes.
SurveyMeme solves the old-age problems of all survey creators:
- low response rate (low data quantity & data quality)
- no added value for the respondents
- complicated UI, too complex features & many buttons in admin of other tools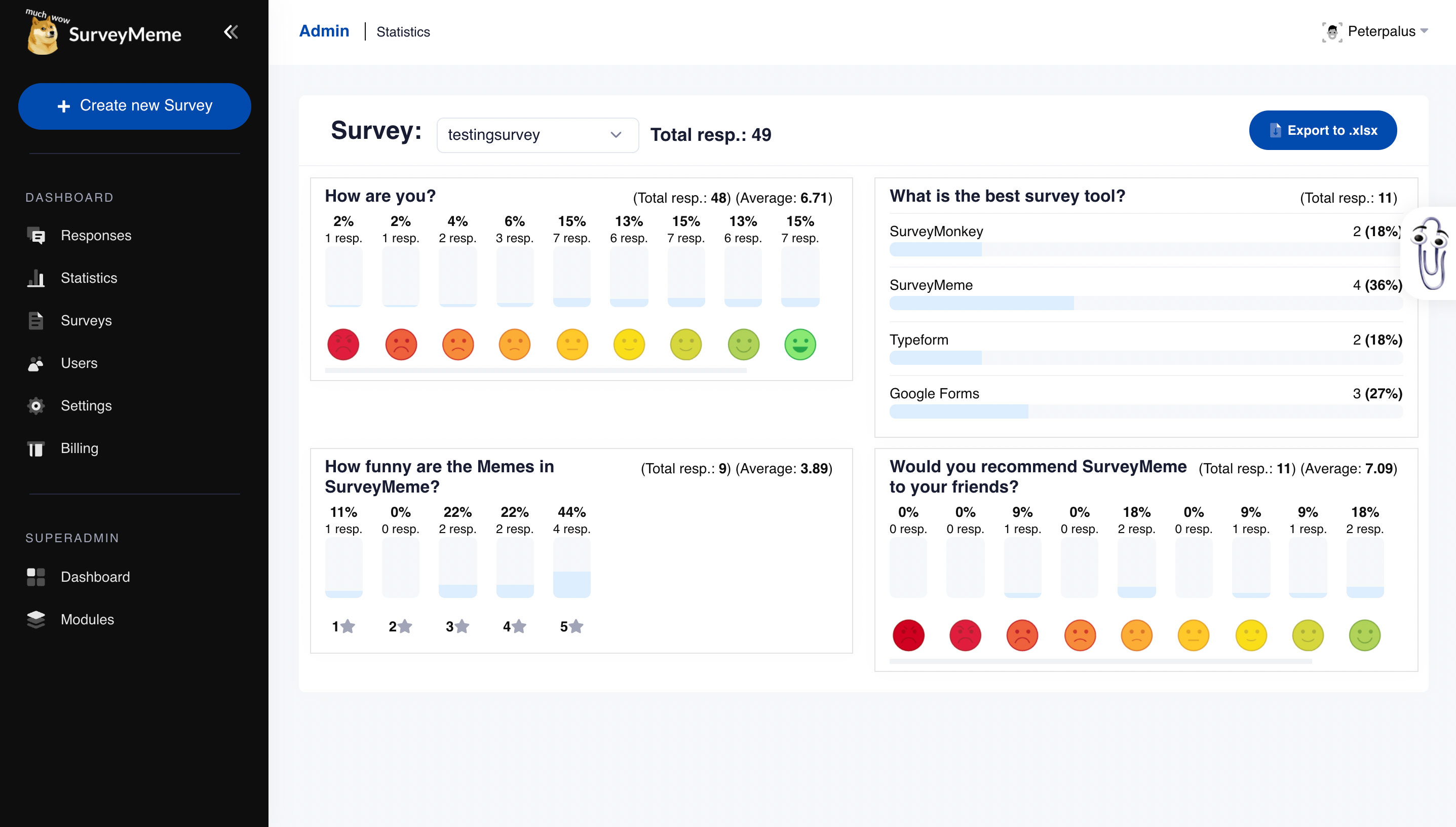 Trusted by hundreds of
HR teams


We are radically better and funny alternative to boring
Google Forms and complex over-featured SurveyMonkey or Typeform

Our mindset and thinking
The other guys
no added value for respondent after sending the survey
too complicated UI for simple surveys
120 buttons in admin for 15 usecases & 22 modules
core features + 340 other features
SurveyMeme
the funniest MEMEs & Fortune Cookies shown after sending the survey
the simplest and cleanest admin UI
9 buttons in admin, 1 usecase, 6 basic modules
0 templates, you know the best your own content for yourcontext

Science backed!
Evidence that Memes provide better data quality and response rate.
This study of International Journal of Market Research explored the influence of Internet memes on survey respondents' engagement.
Conclusion is that Memes provide respondents a fun break and relief from the cognitive burdens of answering online survey questions. Memes represent a relatively inexpensive and easy way for survey creators to connect with respondents and show appreciation for their time and effort.
Pricing plans
For enterprise package - SLA, customer success mananager please contact sales.
Free
3 Active surveys

1 Admin seat

Unlimited responses

Email support
Business
Unlimited surveys

Unlimited Admin seats

Unlimited Historical data

Unlimited responses

Email support

Video guide call support

Dedicated account manager
Get better data quality and data quantity with SurveyMeme
233 accounts created last week